The Playboy of Dakota's Cats
Jamaluddin finds love in the neighbourhood.
9 AM: Saturday morning. A man in his late sixties saunters to a concrete seat in the middle of the community courtyard of Dakota Crescent. He is only in shorts and slippers.
In his right hand, a can of Ensure cat food and a dull, stainless steel spoon. In his other hand, some newspapers cut to A5 size. Walking alongside him are four cats – one black, one striped, and two brown.
As Jamaluddin settles himself on the seat, the cats align themselves up in perfect choreography, waiting to be served their own plate of cat food in the same order.
Dakota's Very Own Bed and Breakfast
69-year-old Jamaluddin bin Mohamed Sidek has been a seasoned Dakota cat feeder since he first moved to Dakota Crescent some 20 years ago. Besides feeding the cats every morning and night, his ground floor 3-room rental flat is open to the neighbourhood cats of Dakota, and they get to run, play, eat and sleep in his home.
As a bachelor, he has always lived alone. However, he proudly declares he has never been truly alone, saying, "a lot of cats sleep with me".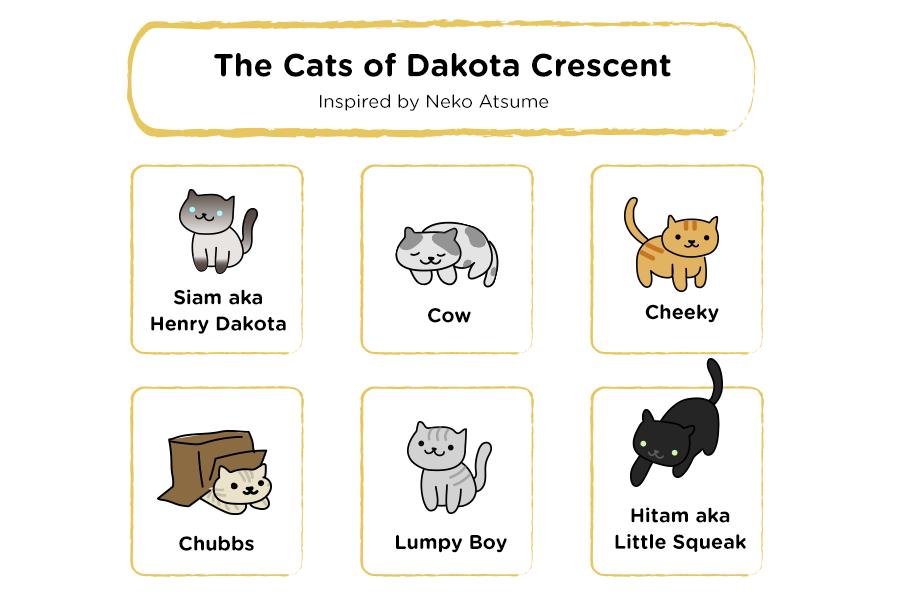 "Who else wants to sleep with me? Cats are my pillows also! One as bolster, one for my head. Now, I kick my bolster away, as I will be hugging them to sleep. They even sleep on my foot. Everyday, three or four of them. On average there are four cats. Over here is its area, another over there. Hitam will be over there at my fan. So altogether three."
A lot of cats sleep with me.
Jamaluddin
Although known to be popular among this feline posse, Jamaluddin has a humble love story that has been much less heard.
"I didn't have time for all these. When I was working as a conductor, I met this girl. One girl. She has already passed away. I wanted to marry her. I already went to the imam (Malay priest) to arrange for her hand in marriage."
Jamaluddin's first and last love, Moksiah, passed away from breast cancer a year before the two were scheduled to get married.
"I asked, 'Mok, another year can?' 'Okay'. And then she fell sick. I'm not sure from what. She said there was a lump in her breasts. I said, 'This is none of my business! You can ask your mum or doctor to check! Don't need to tell me all these!'"
Jamaluddin's sister then asked him, "'Do you know that Moksiah is sick?' 'I don't know.' 'You don't know?' She was sick and soon after she passed away."
Here at Dakota Crescent, every cat has their own space within Jamaluddin's home and heart, where feline comfort acts as a balm against the past.
Identifying soft spots
Jamaluddin works as a caretaker at the nearby Broadrick Secondary School, and is often friendly to the people and students he meets. But in his younger years, he would not have considered himself a warm person, and would, in fact, be pretty cold to strangers. In his 20s, he worked as a bus conductor, and an incident during one of his shifts revealed his heart for animals.
It was a rainy day, and when he was about to start work, a woman shouted to him for help. He saw a kitten trapped in a box at the drain. Immediately, with his clothes on, he jumped inside the drain to retrieve the box.
It was from that day on that Jamaluddin found he had a soft spot for these feline creatures.
"When I first got the letter, I was confused."
Cat got his tongue
With news of the relocation, Jamaluddin feared that the cats would not take it as well as him.
"When I first got the letter, I was confused. I thought of my cats first, 'Alamak, what will happen to my cats?' I didn't think about the house first. I didn't think about whether I got it or not. I can stay anywhere. If I have a job, I can rent from anyone. If we are okay, people would probably let us stay."
Today, although Jamaluddin is happily settled in his new home, he still journeys back to the Dakota cats and feeds them as per routine. Now that most of the residents have moved over, Dakota does seem like a ghost town haunted by memories of the past. The cats are still there, some of whom are dwelling within the empty homes including Jamaluddin's Blk 20 #01-33.
"They eat outside. So every morning they will go to that place. The place that I walked earlier, they will be waiting there. They know what time I come. They are also like humans. They also have a mind of their own. Survival instincts."
New kid on the block
In preparation for married life, Jamaluddin had accumulated items to be used in his marital home, such as a stove, which he thought would come in useful.
"I was daydreaming. But it didn't happen. So my hopes were shattered. Everything was left to rust. All these kitchen items, basins and stove. I bought everything because I thought that I should buy it before marrying her. So once she enters, all these items are ready. I planned for all these but in the end, it didn't happen. What to do?"
All of these items will be brought over to the new flat at Cassia Crescent, although Jamaluddin has thrown away bigger items such as his furniture. With the help of his step-brother Rahim, they moved one big box of these bowls and plates, as well as multiple bags of mementoes to Blk 52.
Settling down
Although Jamaluddin is doing well in his new home, he said he would be even happier if others started taking care of the old Dakota Crescent cats.
"I will be happy if someone takes over. I don't need to go over already. There's always people there. There is one couple that always comes every Sunday. They will say that they will come in the afternoon, around evening. So I won't be worried. Saturday, Sunday, when people come back from work, I don't need to take care. They will definitely have food."
"They stayed over there. Early in the morning and afternoon, I feed them. People have been feeding them from last time. So like just now I was feeding them, soon after there would be other people. For example, if I'm not free like yesterday, I won't go."
I thought of my cats first, 'Alamak, what will happen to my cats?' I didn't think about the house first.
Jamaluddin
One of the cats under Jamaluddin's care was Siam, a 9-year-old Siamese cat, who he has cared for since it was a kitten. During the Dakota move, members of the Animal Human Alliance (AHA) came down to help the stray cats in the midst of the relocation, including Siam. They found that he was Feline Immunodeficiency Virus positive (FIV+) – the cat version of HIV positive – along with two other Dakota cats.
He has since been taken in by a member of the AHA and even had a birthday party organised by his new owner. Jamaluddin attended the party, in a brief reunion with his longtime friend.
When asked how will he feel like if all the cats were relocated, he said he will feel relieved.
"Good! I will be at ease that they are in a safe place. At least I know all of them went to one place. If they want to put it down, or if it is sick, it's okay. I will feel much better that way. I won't keep thinking what would happen to them."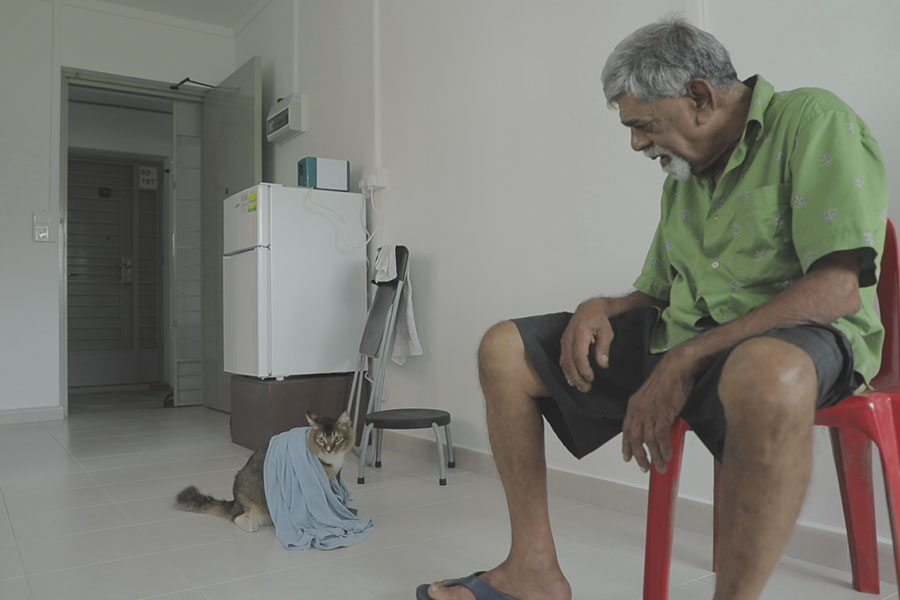 Apart from Siam, some cats of Dakota still remain in the empty estate, while others have continued their wandering lives. One feline housemate, however, remains with Jamaluddin at his new place in Cassia Crescent, a cat he fondly calls "the King of the House".
Researched & Written by Nor'Huda Mohamed Abidin
Photography / videography by Amrit Kaur Jastol, Wan Zhong Hao, Jeremy Ho, Nurul Amirah Haris