Growing Up to Say Goodbye
"When you ask me whether I am happy to move, I do not know what to answer."
To beat the Saturday morning crowds in IKEA, Low Shuilin arrives by 10.30am. Armed with a Pinterest page full of design inspiration and corresponding measurements, she is excited to fulfil her dream of home ownership.
While Shuilin is among the many Dakota Crescent rental flat residents making the move, she is one of the few to make the transition to be a homeowner. Despite initial concerns about the cost and size of a new flat, Shuilin took the plunge to purchase a three-room flat at Cassia Crescent for her family.
"Now I want to buy a flat because my parents are still around. You don't know what will happen the next second, so it's better to make plans for the future."
Now I want to buy a flat because my parents are still around.
Shuilin
Growing Up in Dakota
Dakota Crescent of the 90s was the best playground for Shuilin and her friends. After-school hours were marked by the children's imagination around the new-defunct playground at the turn between Jalan Enam and Old Airport Road (it has since been replaced by a modern fitness corner).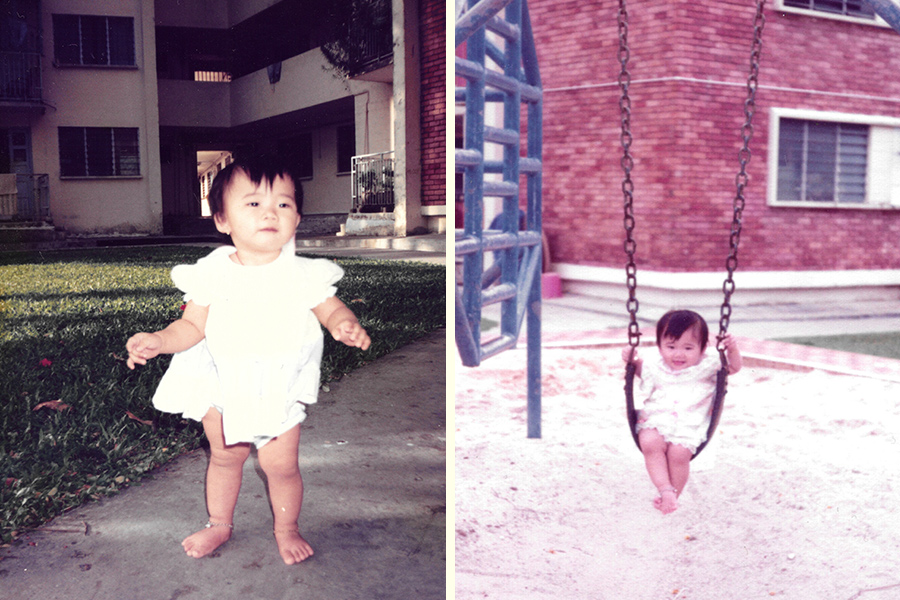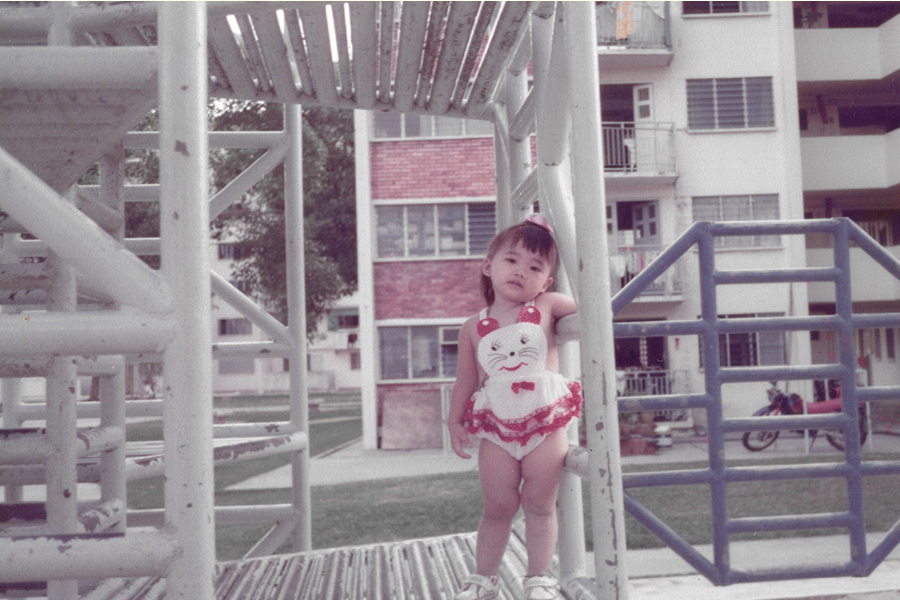 On rainy days, the sand pit would flood and to the children's delight, would form a personal swimming pool for them to play in.
"Normal swimming pool water is blue but the playground's was brown. We would sit on the swing and jump off, splashing into the water. We leave our houses in dry clothes and go home dripping wet. Of course, my parents would nag about it. My mum would gesticulate wildly as she is both deaf and mute. It frustrated her profoundly but she still helped us clean up."
"The craziest thing I did was to put on my goggles, dip my head into the mix of sand and rainwater, and try to swim in that disgusting brown water."
The delight of 'home' was derived from the larger environment of play.
"I treat the playground as my home. Last time, I would bring down the broom and cloth from my house to wipe and sweep the playground clean. Then I laid out the newspapers and pretended that it is a bed."
Till this day, Shuilin still heads back to her old Dakota haunts when her mind needs a breather.
Sometimes when I am stressed, I will just walk around the estate and the tranquillity of this area calms me down.
Shuilin
Time to Say Goodbye
Happy memories aside, there are reasons that make it slightly easier for Shuilin to leave Dakota Crescent. In recent years, her family has experienced termite infestations and multiple plumbing problems. Such incidents have been costly.
After the termite infestations, the family had to throw away all their wooden furniture; engage the services of the pest company, and pay for renovations to be done. With the donations of her relatives and church friends, Shuilin's family was able to raise enough funds to help cover the renovation costs. The family kept most of their belongings in plastic boxes, should the termites ever return.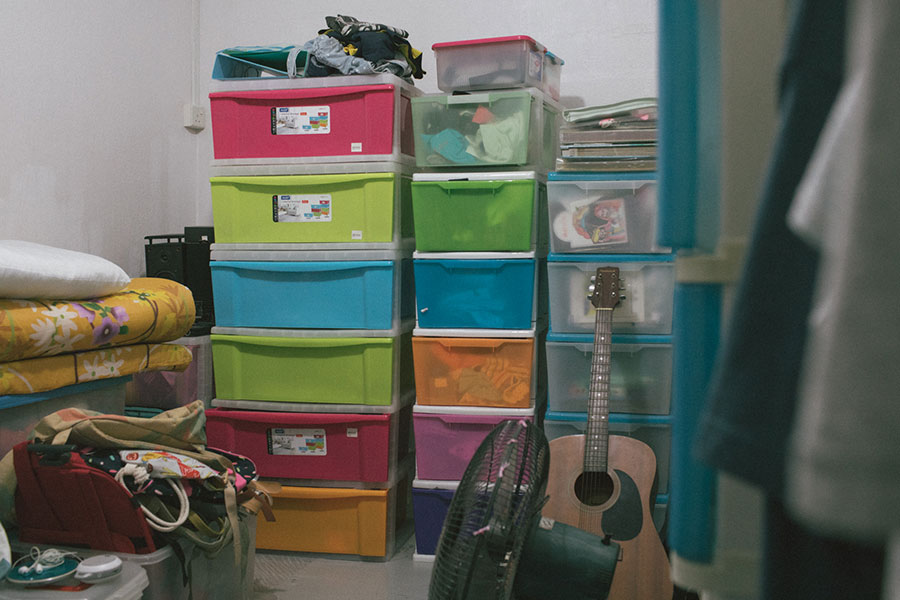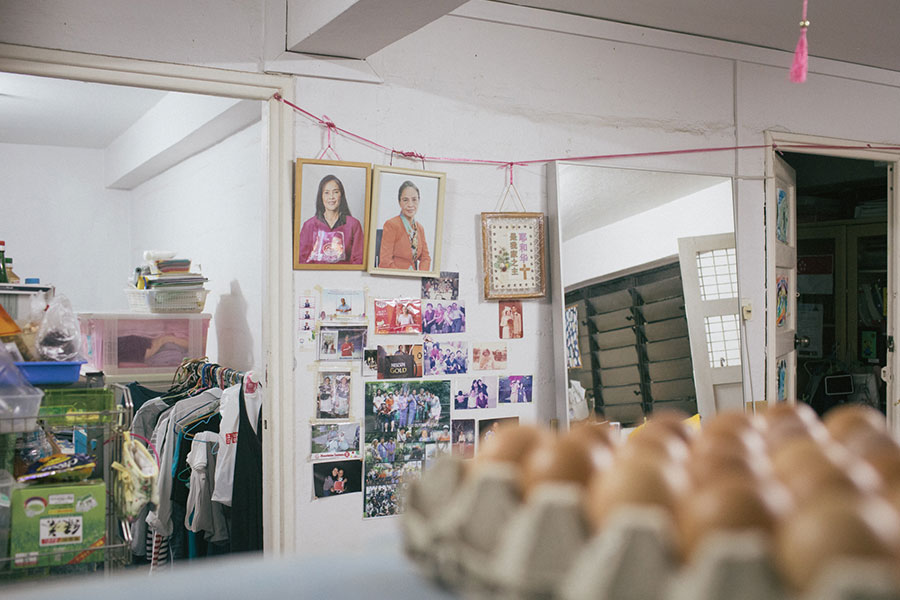 The pipes would also clog once every few months, requiring frequent repairs.
"I always thought that the older generation here would be reluctant to part with the place, because that was all I heard, but Uncle Roger from Tung Ling Centre shared with me other perspectives of the elderly who have difficulties moving around. They will get to enjoy the new lifts that service each floor at Cassia Crescent."
Adulting Fun
Shuilin's father is bedridden and has Parkinson's disease, and her mother, both deaf and mute, has struggled to look after him. Shuilin and her sister had to make the difficult decision to send him to a nursing home, where he could receive the professional care he needed.
"Whenever there was a blackout in Dakota, he would be the first to call for the maintenance guy, and it would be magically fixed the next day. Since my father was admitted to the nursing home, I have come to realise his importance. During one of the last blackouts, no one called for the repairman, and I didn't know who to call either, so we went without light for one whole week."
In her father's absence, Shuilin has assumed the responsibility of supporting the family – and settling the matter of the relocation.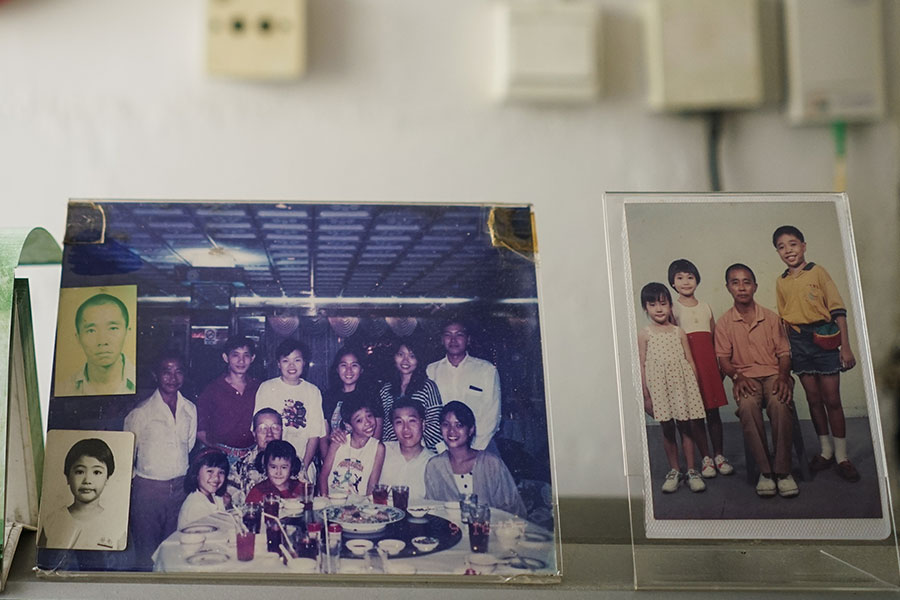 Some things I need to handle on my own.
Shuilin
It had not been an easy time securing her new flat. She initially hesitated, as even with HDB's relocation grant, the cost of a house seemed intimidating. She later realised that there were additional grants she was eligible for, but when she finally decided to apply, the window to purchase had closed. It took multiple exchanges with the HDB – but with a little help from her cousin, who has played a significant parenting role in her life, she finally received the keys to her flat.
Shuilin will never forget her mother's expression the first time they stepped into the new three-room flat. She hadn't expected her mother to draw a blank – the bareness of the house was perhaps unexpected. It made Shuilin all the more determined to furnish and decorate the flat the best she could.
For her, creating that sense of warmth in their new home became key, especially since she knew her mother would miss the connections in the tight-knit Dakota Crescent community.
"My neighbour, Mdm Yee, would bring my mother to attend neighbourhood events organised by Tung Ling Centre. As Mdm Yee cannot walk properly, my mother becomes her crutch to support her. On the other hand, Mdm Yee becomes my mother's ears, and updates her on the neighbourhood."
Mdm Yee, Shuilin's next-door neighbour, together with Shuilin at Dakota Crescent.
The move illuminated the kindness and necessity of community for such a big change.
Many of the household appliances were purchased with the help of friends and the church community. Another friend who worked in construction helped to renovate the kitchen. From the transportation of goods to the furnishing of her home, Shuilin and her sister have had the support of their network of family and friends.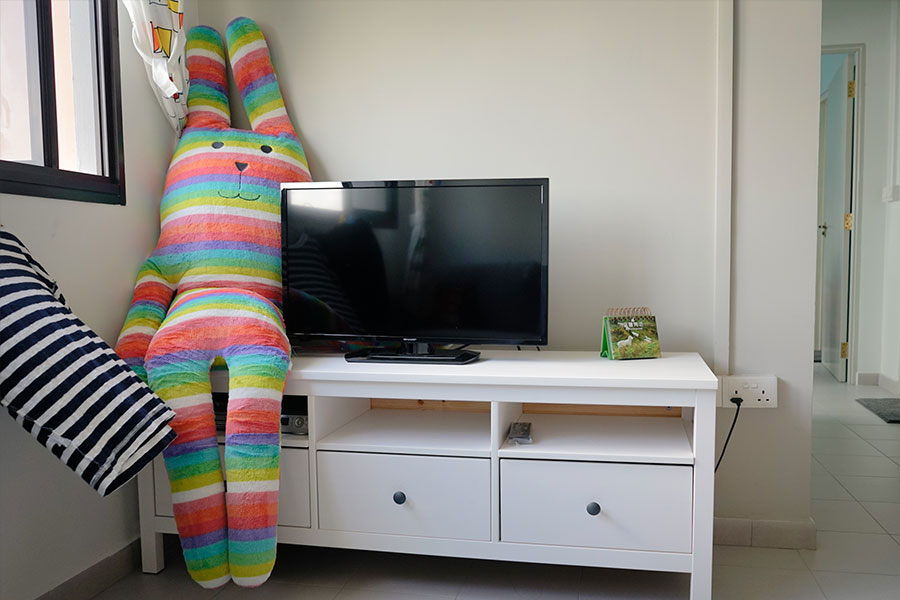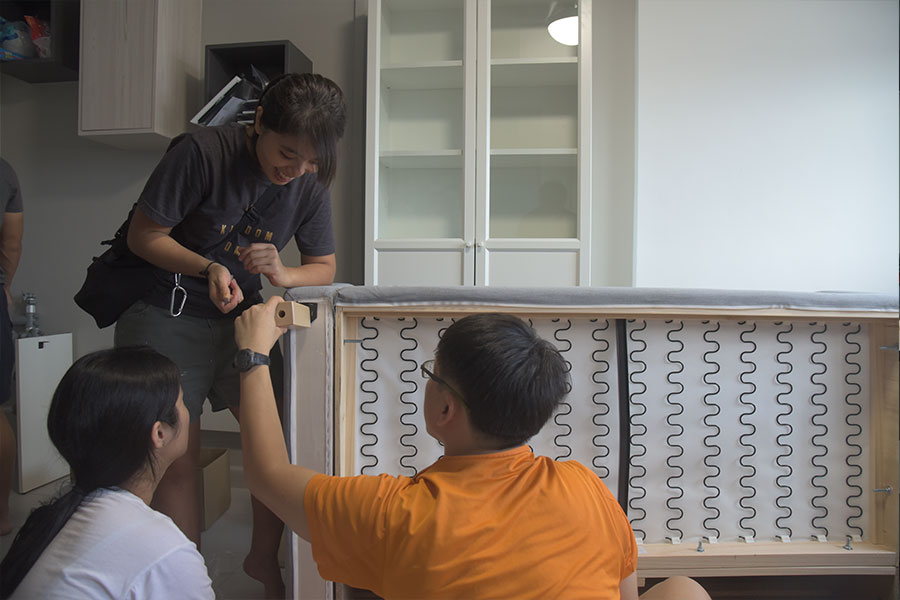 When you ask me whether I am happy to move, I do not know what to answer.
Shuilin
The view from Shuilin's new home.
Freedom of the Past and Future
For the past 8 years, Shuilin has worked as a childcare teacher at Jalan Tiga, 200 metres away from her old three-room apartment at Dakota Crescent. Although her workplace is in such close proximity, she still believes that the grass is greener on the Dakota side.
"When I go across Old Airport Road for work, I feel like I've entered a different world."
Today, despite her attachment to Dakota Crescent, Shuilin is taking the move in her stride. She balances nostalgia for the neighbourhood with a genuine excitement for her new home at Cassia. For her new flat, she brings photos of the old Dakota Crescent compound, which she carefully selects new IKEA photo frames for.
When I go across Old Airport Road for work, I feel like I've entered a different world.
Shuilin
Shuilin's favourite tree in Dakota Crescent.
As often as she can, she also brings her students for a walk through the old SIT flats and the Dove Playground at Dakota Crescent.
"There are simply more things to see here. Near the childcare centre, you can hardly find any animals. Things are very different over at Dakota, not just the buildings, but also the air. Wherever you go, you can see birds flying, and hear cats meowing. My kids also prefer coming over. They enjoy the spaciousness, and the ability to run around. When I see them running, I feel their freedom too."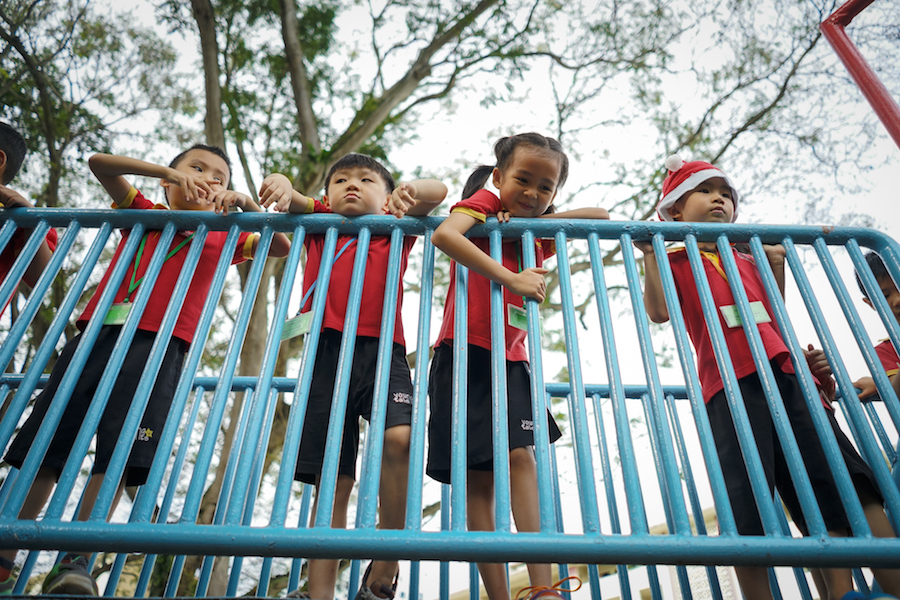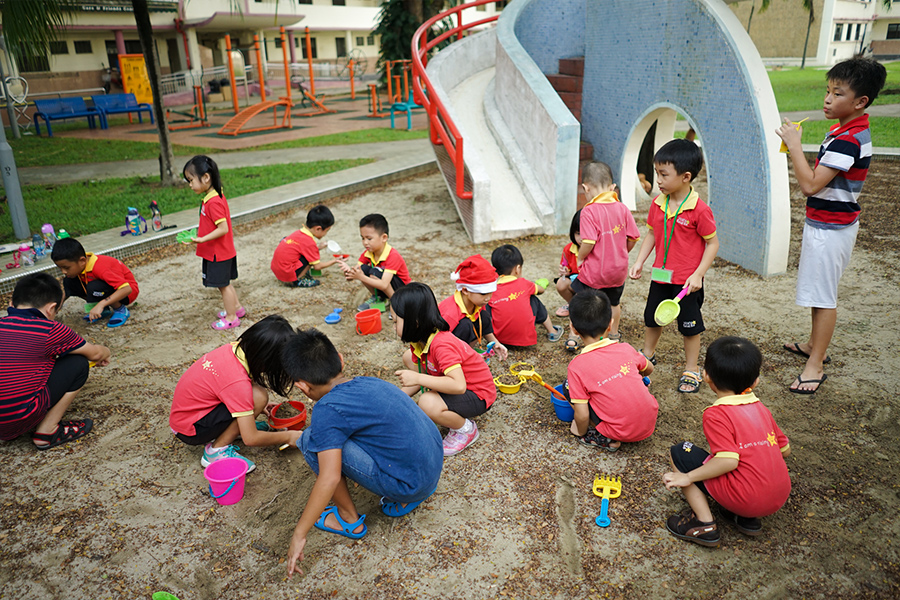 Today, Shuilin has found other ways to preserve a part of Dakota Crescent for herself, despite not being able to physically live there. With her feelings of ambivalence, she has written two songs about Dakota Crescent, a place which continues to have a powerful effect on her.
Shuilin's Song
再见
静悄悄的街和黑漆漆的夜
空荡荡的房一个人影都不见
我成长的地方 怎么
变得孤单了
你还好吗?
Does this place make the people
Or the people make this place?
孤单单的家一个人影都不见
泪湿湿的眼 想起
回忆里的面回想起过去的时光
回想起过去的模样
怀念我儿时的玩伴
打羽球 躲猫猫 和玩抓米藏
回想起过去的时光
回想起过去的模样
走在达哥打的街道上
心中充满无数的不舍
说再见
Goodbye (English Translation)
Silence on the streets and the darkness of night
Now an empty room with not a soul in sight
The home where I grew up
is now plagued with loneliness
How have you been?
Does this place make the people
Or the people make this place?
Lonely homes around with not a soul in sight
The tears in my eyes reflect
My memories of the past
Remembering good times from the past
Remembering how it used to be
Missing the childhood friends who played with me
Badminton, hide-and-seek, and block catching
Remembering the good times of the past
Remembering how it used to be
Walking along the streets of Dakota
With a heart of unwillingness
I say goodbye
–
There is no easy summary for her move from a space of deep emotional bonds, to taking ownership of her new place. Shuilin's own response reflects this: "When you ask me whether I am happy to move, I do not know what to answer."
After two hours of intensive IKEA shopping, Shuilin heads back to Cassia armed to furnish her house. Heading back to a familiar neighbourhood, she makes the shift from old to new, from tenant to homemaker – it is a transition she can only look upon with mixed feelings as she anticipates the next chapter of her life, in Cassia Crescent.
Researched & Written by Kae Yuan, Lee Weifen, Michelle Ann Kwara
Photography / videography by Wan Zhonghao, Jeremy Ho, Kae Yuan, Cheah Wenqi, Cai Yinzhou